Reproduction of life involves union of sperm and egg (ova). Sperms are living cells present in the semen, produced and ejaculated by a man. Eggs are produced inside the ovaries of a woman. Absence of sperms in a man results in infertility.
SEMEN :
A semen is a biological fluid, viscous in nature, contains millions of sperm, which exhibits motility. When the semen is ejaculated outside the body, it is the form of a thick fluid which gets liquefied after some time.
PRODUCTION : In women, production of eggs ends at menopause, but in men there is no time limit for semen. The production starts at teenage & losts all most life long.
Semen consists of several substances produced from different internal sex organs. They are :
Sperm : It is produced from testes and stored in epididymis.
Seminal fluid : It contain fructose is produced from seminal vesicle.
Prostatic fluid : It is produced from prostate gland.
HOW IT COMES OUT (EJACULATION) :
Sperms which are produced in testes and stored in the epididymis, seminal fluid from seminal vesicles and prostatic fluid from prostate gland all are simultaneously ejaculated during sexual stimulation. During masturbation or intercourse the semen is forcefully ejected by contractions During ejaculation, the bladder neck closes to stop semen from going back into the bladder.
CONTENTS OF NORMAL SEMEN :
Normal serum looks like white cloudy fluid. It smells like chlorine. It becomes liquid within 60 min after ejaculation. During normal ejaculation, one brings out 2 to 6 ml of semen. It is slightly alkaline with a Ph of 7.2 to 8.0. Semen consists of Citric acid, Zinc, Acid Phosphates, Fructose, Prostoglandins, Amino acids, etc.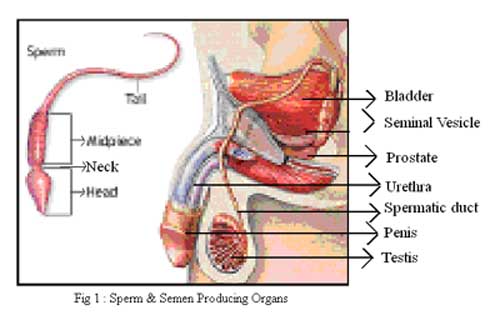 SPERM :
Normal semen contains 50 to 150 millions of sperms per milliliter. At least 50% of these sperms will be having forward movement. At least 30% will have normal form. Sperm contains head, neck and tail. Head contains nucleus which carries Chromosomes. The tail helps in the forward movement of the sperm.
SEMEN TEST :
Semen analysis is the test to measure the amount and quality of a man's semen and sperm .The test will provide the result whether a person is fertile or not.
HOW IT IS COLLECTED :
A person who undergoes semen test should give the semen to the laboratory in a sterile container. He should not have ejaculated for at least 3 days before giving the semen. He should collect the semen by masturbation and hand over to the lab within one hour of collection.
ABNORMAL SEMEN :
The common cause to infertility in a couple is lack of normal semen in the male partner. This contributes for nearly 50% of the problem in the infertile couple. Some of the problems are
Oligospermia : Low sperm count
Azoospermia : No sperm in semen
Astherospermia : Low motility or no motility of sperm
Teratospermia : Abnormal sperms
Necrospermia : All dead sperms
CAUSES FOR ABNORMAL SEMEN :
Fever, varicocele, 4long term drug treatment (eg: nitrofurones, furodentins), increased testicular temperature due to tight fitting under wears, hot baths, alcohol consumption, toxins, smoking, hormonal imbalance affects the semen quality.
DISEASES :
Bladder cancer, Prostatitis, Gonorrhea, Orchitis, Epididymitis, Prostate cancer, Vasectomy, Erectile dysfunction, Urinary infection, Chromosomal abnormalities, genetic abnormalitis result in abnormal semen.
TIPS FOR GOOD SEMEN PRODUCTION :
Healthy habits such as eating balanced diet, yoga and exercise, Avoiding smoking and no to alcohol, helps in production of good semen.
TREATMENT :
Treatment to abnormal semen depends upon the cause of abnormality. Several medicines which contain Folic acid, Zinc, L- canitine, Argine, Coenzyme Q10 etc. are available which enhance the semen & sperm production.
CONCLUSION :
Usually a man thinks that he is normal if he can do sexual intercourse and produce semen. This is not true. In an infertile couple, the first test which has to be done is the semen analysis. This will give the information regarding the fertility of the male partner.